Letter of Naturalization from Latin America for Dual Citizenship
A Letter of Naturalization is one of the most important requirements in order to obtain dual citizenship. Also known as Letter of Citizenship, it is the official record showing the status of an immigrant in a certain country. For the specific purpose of obtaining dual citizenship, applicants should prove that none of their ancestors resigned to their original citizenship and/or that they never acquired legal citizenship in any other country. Therefore, it is necessary to obtain a Letter of No Naturalization in order to apply for dual citizenship.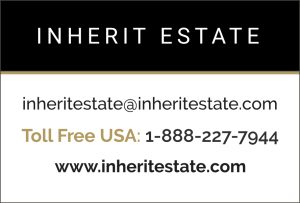 At InheritEstate, our extensive network of international lawyers in Latin America has assisted clients from all over the world throughout the process of applying for dual citizenship by retrieving the required Letter of No Naturalization from their ancestors, as well as any other supporting documentation, such as birth, death, marriage certificates, last wills and testaments, genealogy records, property and land records among others. Our legal professionals are highly trained to search at the corresponding offices in their own country.
In addition, we handle additional requirements, such as the notarization, authentication of the official records. We can also obtain the Apostille of the Hague Convention issued by the Ministry of Foreign Affairs, International Trade, and Worship for those member countries. Above all, we provide the translation of said documentation by duly sworn translators.
Services
In fact, InheritEstate is the only international company specialized in the search and retrieval of vital records that may be required for a vast array of legal purposes. For example, applying for a passport or a visa, dual citizenship, a scholarship, adoption, claiming an inheritance, a life insurance policy, etc. Our international attorneys are capable of obtaining these official documents in record time, tackling any administrative obstacle or unnecessary delay since they are constantly supported by a top-notch team of experts and specialists. This team includes document facilitators, multilingual translators, government consultants, certified accountants, courier service, database analysts, genealogists, expat tax services, notaries public, paralegals, researchers, and customs agents, among others.
Tracing back old records is one of the most complex tasks our company has to face due to an endless range of reasons. For instance, the registration methods from the past were very basic and incomplete. The lack of standardization even within the same country worsened the situation. Consequently, many records are lost, misplaced, or full of inaccuracies due to the language barrier between the local residents and the newly arrived immigrants.
Nonetheless, InheritEstate has the necessary human resources structure in order to fulfill these tasks with outstanding results.
Letter of Naturalization: Historical Background
After the devastating consequences of World War I and II throughout Europe, many people decided to migrate to Latin America. Each country established its own naturalization and the format of the corresponding records. In general, earlier records were very rudimentary and only included the immigrant's name, age, and country of origin. In fact, at that time, only adult males had the right to be naturalized since women and children obtained legal citizenship by means of kinship.
However, not all immigrants decided to acquire legal citizenship in their new country of residence. Mainly, because naturalization was not a requirement for immigrants settling in a colony of the mother country. In fact, in colonial times, there was a lack of an immigration legal framework. In some countries, the only requirement for immigrants was to appear before a local court in order to report and register their arrival into the country
Over time, each country in Latin America established its own immigration regulations. Nowadays, upon complying with a series of requirements established by the regulation in force, a person can obtain this Letter of Naturalization that proves the acquisition of legal citizenship in that country. After a certain period of time –which varies according to each country-, this Letter of Naturalization is registered at the National Civil Registry in order to issue a national identification card to the applying immigrant.
Citizenship within International Law
One of the most important pillars of any country is its population, which consists of national residents and foreigners. The first group is subject to the regulations of their country, even if they are not residing in it. On the other hand, foreigners do not need to acquire legal citizenship, but they do have to comply with national regulations.
In any country, the concept of citizenship or nationality implies the idea of a binding relationship. According to the Inter-American Court of Human Rights, nationality is the legal bond that links one person with a determined State, by means of which is subject to a relationship of loyalty and fidelity, thus acquiring diplomatic protection.
It is worth noting the importance of this relationship of loyalty and fidelity of the citizens towards their country of origin. Consequently, many countries are very careful and meticulous about the conditions required to grant citizenship to foreigners. Without a doubt, a Letter of No Naturalization is a perfect example of this matter. Descendants will not be able to apply for dual citizenship if their ancestors resigned to their original nationality.
Legal Framework
The main Statements and Conventions regarding International Human Rights have highlighted the importance of nationality as an own and inalienable right of individuals. Thus, the Universal Statement of Human Rights of 1948 establishes, in Article 15, that any person has a right to obtain a nationality from their country of origin. The right to a nationality implies the provision of the minimum legal protection of individuals in international relationships, by establishing a binding relationship with a certain country, in addition to political and civil rights.
Even though "citizenship" and "nationality" are synonyms, the former is a legal-political bond between a State and an individual, but the latter can renounce it at his/her own will. However, nationality is a civil right binding an individual with the country of origin. Therefore, a person can resign or acquire another citizenship, but it is not possible to lose one's nationality.
Additional Services
Our team of legal experts at InheritEstate receives constant training to provide additional services. For example:
alien file, alien registration form, naturalization certificate, certificate of arrival, certificate of citizenship, certificate of naturalization, certificate of registry, collective naturalization, declaration of intention, denization, derivative naturalization, petition, first papers, genealogy records, oath of allegiance, registry files, visa
Local Presence in Latin America
More than two decades of experience support our proven record of success. In addition to the most qualified human resources and the latest technology, our unique trademark is the local presence throughout Latin America. These are the countries where InheritEstate operates through its network of local correspondents:
Argentina, Belize, Bolivia, Brazil, Canada, Chile, Colombia, Costa Rica, Cuba, Dominican Republic, Ecuador, El Salvador, French Guiana, Grenada, Guatemala, Guyana, Haiti, Honduras, Jamaica, Mexico, Nicaragua, Panama, Paraguay, Peru, Puerto Rico, Suriname, Uruguay, Venezuela