Legal Errands in Chile
InheritEstate is the number provider of legal errands in Chile. With more than two decades of proven experience, clients from all over the globe rely on our excellent services. We specialize in the retrieval, rectification, authentication, and translation of any type of official record. For example, birth, marriage, divorce, death certificates, certificates of no impediment to marriage, certificates of good standing, etc. Also, academic records, such as diplomas, certificates of attendance, transcripts, student progress, etc. Within the commercial field, at InheritEstate, we can obtain a certified copy of a property title, real estate records, financial records, corporate certificates of Incorporation, and much more.
In addition, we provide notarial services to validate official or private documents of any nature. For instance, commercial agreements, lease contracts, travel permits for minors, power of attorney, etc. At InheritEstate, we only work with duly licensed notaries public, who hold a valid registration within their jurisdiction. We abide by the strictest standards of security and confidentiality to guarantee the best service to our clients.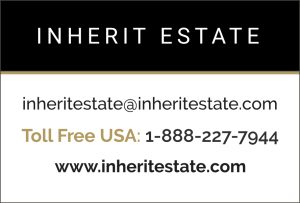 InheritEstate has a vast local presence in Chile. The following are among the main provinces, cities, and jurisdictions where we assist clients:  Zapallar, Yungay, Yumbel,
Vitacura, Viña del Mar, Valparaíso, Última Esperanza, Tarapacá, Tamarugal, Taltal, Talcamávida, Talcahuano, Talca, Talagante, Biobío, Cabo de Hornos, Bahía Inglesa, Alhué, Algarrobo, Algarrobal-Punta El Olivo, Alerce, Achao, Navidad, Natales, Nancagua, Nacimiento, Maitencillo, Maipú, Maipo, Magallanes, Máfil, Macul, Machalí, La Chimba, La Calera, La Boca, Juan López, Juan Fernández, Itata, Itahue Uno, Salamanca, Saavedra, Rastrojos, Ránquil, Rancagua, Ralco, Rafael, Quilimarí Alto, Quilicura, Palmilla, Palena, Ovalle, Osorno, Olmué, Ollagüe, Olivar, Olivar Alto, O'Higgins, and more.
It is very important to take into account that any document issued in Chile needs to be apostilled in order to be valid abroad. An Apostille is an official document recognized by country members of The Hague Convention. However, some countries are not part of The Hague Convention. In that case, you may need to get your document certified by that country's embassy. The fee for this consular legalization varies depending on the issuing country. In addition, many have their own specific requirements.
Feel free to contact us either by email or at https://Wa.me/19257918400
Keywords: notarization, public records, authentication, legalization, notarial services, translation, apostille, notary public, rectification, embassy, consular certification