Heir Locator Services in Guatemala
Families, insurance companies, estate, planners, government offices, law firms, attorneys, private investigators, and financial institutions from all over the world rely on InheritEstate for heir locator services in Guatemala.
Our team of heir locators in Guatemala specializes in locating missing or unknown heirs of a deceased person. They typically use genealogical research, public records, and other resources to identify potential heirs and locate their whereabouts. Once located, our multilingual research staff may reach out to the heirs to inform them of their potential inheritance and assist them in the legal process of claiming it.
Some of the main heir locator services we provide in Guatemala are family tree reconstruction and validation, locating witness to wills, DNA kinship verification, unclaimed property holders, lost security holders, unresponsive payee searches, completion of other third-party genealogical research, pension plan searches, and expert witness testimony and proving heirship to the court among others.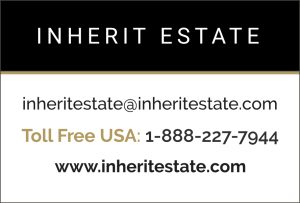 InheritEstate in Guatemala
At InheritEstate, we excel at locating missing, unknown, or estranged parties since we abide by the high standards of ethical and discretionary research and investigation procedures. Unlike our competitors, our team at InheritEstate is capable of meeting tight deadlines for court-appointed administrators.
Since we provide services throughout Guatemala, we are able to obtain official certificates in record time in order to prove heirship. In addition, we can assist foreign clients in the delivery of notices or the distribution of funds in either probate or intestacy matters. We can also assist in the determination of beneficiaries for trust termination, as well as owners, heirs, and successors real estate. Addition services include obtaining court-accepted affidavits, due diligence reports, and declaration of heirship.
InheritEstate operates in the following cities, towns, and jurisdictions in Guatemala: Santo Domingo Xenacoj, Santo Tomás La Unión, Sayaxché, Senahú, Sibilia, Sibinal, Sipacapa, Siquinalá, Sololá, Suchitepéquez, Sumpango, Tacaná, Tactic, Tajumulco, Tamahú, Taxisco, Tecpán Guatemala, Tectitán, Teculután, Tejutla, Teotihuacan, etc.